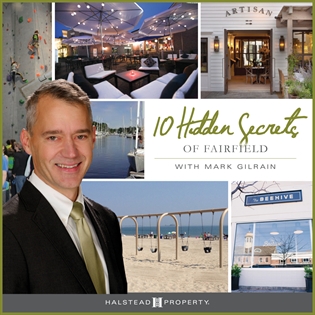 When we left Manhattan in 2011, we asked 'would we be happy in the suburbs'. A first event we attended after settling in was a party at Fairfield's Penfield Beach, where we knew we had made the right decision. We dine most weekends at our favorite Fairfield restaurants. I'm always with my kids and their friends at one of the Sportsplex's venues. The thing I love overall about Fairfield is it has everything in it. It reminds me of Springfield where the Simpson's live; it's a casual beach town, home to two universities, and at least one corporate headquarters. Fairfield is filled with 375 years of colonial buildings (the anniversary was 2014), art museums, performance halls, indoor and outdoor ice skating, a golf course by the Sound, and famous past and current residents across all facets of life–arts, entertainment, sports, business, politics. Fairfield has it all.
Here are my 10 best kept secrets of Fairfield:
1. The Sportsplex (85 Mill Plain Road) has it all–health food, a brewery and an array of creative sports venues including indoor skating, gymnastics, wall-climbing and more. It's great for family outings and birthday parties!
2. Quick Center for the Performing Arts/The Fairfield Theatre Company - Within a mile of each other, the FTC is in the heart of Fairfield's postcard-ready main street and The Quick is in the heart of the Fairfield University Campus. The quality is always exceptional and the range of popular, literary, and artistic talent is impressive.
3. Penfield Beach (323 256 3191) - With 5 miles of beach and 6 town beaches in Fairfield, it is hard to pick my favorite. For shear summertime fun-in-the-sun, Penfield with its soft sand, sprawling waterfront, playground, snack bar/pavillion, and great people-watching takes the cake! (Located at 323 Fairfield Beach Rd)
4. Flipside Burger & Bar (1125 Post Road) – There is never a shortage of restaurants to choose from in Fairfield. On the casual end, Flipside offers easy, tasty and happening. The Hawaiian burger comes with pineapple bacon and barbecue sauce–delicious! There's a make-your-own option where choices are endless.
5. The shops in Fairfield are phenomenal- there is something fresh and on-the-money about each one. A favorite is The Beehive of Fairfield (1561 Post Road). It's an easy and welcoming store to drop in to. The always changing merchandise is great for gifts.
6. The Audobon Center in Fairfield and the Birdcraft Museum on Unquowa Road, across six acres, the Birdcraft Museum has interesting things to see from the natural world for adults or kids. It was the first private bird sanctuary in the United States. The center at 2325 Burr Street combines natural habitat and an educational center – perfect for all seasons.
7. Southport Village (275 Old Post Rd) - This well-preserved harbor village has the architecture of the colonial period while also being a modern-day affluent enclave. With cobble stone streets, a village train-station, a renowned public library, restaurants, and miles of waterfront–it is a destination for day trippers and in-town residents alike.
8. For a special occasion, the very fine Artisan (203-307-4222) in the Delamar hotel is the place to go. I celebrated my 10th anniversary there. The food is varied, inventive and impressive. The ambience in the well-designed space is sophisticated but thoroughly warm. (Located at 275 Old Post Rd)
9. Dogwood Festival (located in Greenfield Hill) includes stone walls, open fields, treed backdrops and stately homes. Every spring for almost 80 years, the Dogwood Festival has ushered in the blooms with food, games, shopping, and contests. People come from far and wide to be part of it.
10. As a house buff, there is one area of Fairfield that I love to visit simply for the homes. It is the Brooklawn neighborhood. This area, developed shortly after the turn of the last century was originally the center for the industrialists and professionals growing wealthy in a booming Bridgeport. They built an exclusive country club and then surrounded it with the homes to go with it.