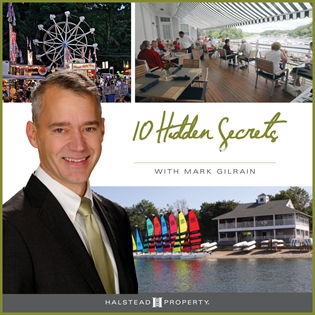 I love Westport and you will too. It's a town of coastal ease and wonderful, warm people. In the summer, long days are lost on the sand or water, on lawns or the quiet streets of town. In the winter, fireplaces make open-concept living spaces warm while the hills are speckled with sledders and skaters circle looking out over the Sound.
Westport is known far and wide for a good number of celebrated things: past and current residents (Paul Newman or Harvey Weinstein, for example), trail-blazing cultural destinations (Westport Country Playhouse, Westport Arts Center), an award-winning dining and shopping scene (accompanied by a practical and convenient dining and shopping scene), clubs and beaches.
Here are hidden secrets that might not be known far and wide:

1. Dunville's (41 Saugatuck Avenue) is a quintessential "local" with great food. My guys love the tall tables, the back dining room, and the bar. The big screen TVs play games and concerts. We have Friday night family nights, or go for Sunday french toast fests.
2. A classic small-town carnival is the Yankee Doodle Fair (44 Imperial Avenue). An announcement of summer's start, it's hosted on the grounds of the Westport Women's Club on the riverfront. From cotton candy to the RipCord gravity drop, it is about fun, friendship and a great time.
3. Whether you're 5 or 95, Longshore Sailing School and Boat Rentals (Herbert Baldwin Road) offers a way to get out on the water of Long Island Sound. Islands, river inlets, beaches, and estate-lined peninsulas make great exploration. Young sailors learn skills in camps with kids spilling into the water. Rentals are open to all.
4. Another boating venue, offers a picturesque eating opportunity. It is Boathouse Restaurant at the Saugatuck Rowing Club (521 Riverside Avenue). Tables on the deck look over the Saugatuck River giving views including the steel-trussed Cribari Bridge. Going in and out, it's fun to look at the national awards. The club's also a gym/fitness center.
5. If outdoor recreation is your thing, here's something that many Westporter's don't know - in a vibrant, beautifully built and culturally-amenitied town, there are also over 1,100 acres open to the public for hiking, running, dog-walking, biking, swimming, playing ball, and having a good time. The Earthplace Nature and Discovery Place offers 62 acres. The YMCA's Camp Mahackeno sits on 30. Sherwood Island State Park offers 238 acres. Eight open space trusts managed by the Aspetuck Land Trust amount to 115 acres. Westport's town beach and waterfront areas equate to another 40. The town's two marquis parks total 50 acres. The town's Longshore Club gives 169 more. Assorted playing fields and the town farm account for the last 100+.
6. Westport is a philanthropic town with regional and even national organizations once founded or based here. Not founded here, but a place my family values visiting is Westport's branch of the CT Humane Society (455 Post Road East). Open 7 days a week, the bright facility welcomes visitors, happily giving access to cats, dogs, and other animals.
7. For art-lovers, something about Westport that's unique is the Westport Schools Permanent Art Collection. Started by an elementary school art teacher the collection comprises 700+ pieces of visual art curated by parents. Including everything from original children's book illustrations to modern greats, look for publicly scheduled school events as a chance to visit.
8. If you love food, you'll love Westport. A good food town starts with lots of places to shop for great ingredients. The size and variety of venues in Westport are notable. To start, five full grocery stores run the gamut: Trader Joe's; Fresh Market; Whole Foods; Balduccis; Stop & Shop. Add to that a cornucopia of specialty stores, like
Calise's Market
,
Westport Farmers Market
,
Fleishers Butchery
, and
Saugatuck Sweets Shop
, and you know you will be eating well.
9. Some people both love food and following the food scene. No site is better for knowing exactly what's happening gastronomically than CTBites. Founded and run in Westport, it is the absolute online destination for all things eating, drinking, and dining in Fairfield County.