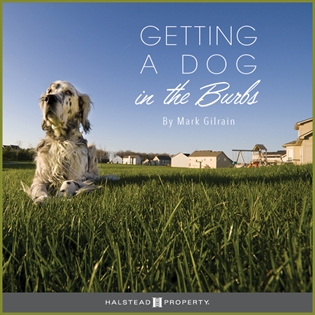 Getting a Dog in the Burbs
By Mark Gilrain, Licensed R.E. Salesperson in our Westport Office

I thought I knew about my town and I thought I met a lot of people in my town. And then I got a dog. Not just any dog. But a handsome puppy. A puppy that just can't be as smart as he is. A good boy. Noble really. Noble and handsome and smart. And good.
Do I sound like a new dog owner?
My family's puppy came in mid-October. A 7-week-old Airedale bred just up the Connecticut coast. We moved from NYC six years ago, and from the moment we moved we've tempted ourselves with a dog. For a while it was going to be a bull dog. Then a golden retriever. For a while the Short-haired German Pointer captured our interest.
We couldn't decide. And actually wavered on the work vs. the reward. Training, walking, giving exercise, cleaning up, feeding – it seemed like a lot. We delayed. We switched houses and started the consideration all over again.
Then an Airedale showed up on a tv program. "Cute," said my partner. That was enough with my partner's birthday approaching – the dog acquisition was out of his hands and was now a GIFT.
Why did we wait?!
We went as a family. Looked over the litter and were certain right away that the boy with the red collar was clearly the best. He came home in a box – only six pounds and wobbled around our front hall while we put water in a cereal bowl and his kibble on a plate.
While he slept, we ran around the corner to Choice Pets and picked out a crate, a leash, food, snacks, and toys.
The greatest work has not been having the new dog, but learning what it is to have the dog. There's an overload of information of things one might do, are told to do, are told to worry about. But it turns out, dogs are pretty easy… it's just a matter of getting a clear idea of what needs to be done, what works, and how to think about it. Loving your dog goes a long way!
The other huge help was Canine Behavior Training. Where can you get that? Lots of places but I went with one of the Parks & Recreation Class Offerings in the Town of Wilton. Patty knew so well how to train the puppies and even more the people.
So, I started off by saying I thought I knew people in my town, but having a dog means a whole new social world. Letting dogs out or walking dogs on the street follows a certain pattern. And whatever the age or stage of life between you and another person, that pattern lets you meet each other. First the dogs, and then the neighbors. The beach comes alive in the winter with dogwalkers. And all of the parks have regulars. It's community building, networking, socializing, exercise, and time with your pet all rolled into one.
One thing city dwellers ask me is how free do dogs roam. My wonder pup goes all over my network of streets leash-less. When we get to the park he has acres and acres to run. It's a dog dreamland.
Here are some resources local to Westport and the surrounding area for Dog owners:
- Choice Pet, Supplies, 374 Post Road East, Westport
- Petco, Supplies, 431 Westport Ave, Norwalk
- Townhouse for Dogs, Daycare & Boarding, 1040 Post Road East, Westport
- Pooch Hotel, Daycare, Boarding & Grooming, 230 East Ave, Norwalk
- Canine Training & Behavior Services, Wilton, 203-394-8533
- There's No Place Like Home, Visiting vet service, 203-543-1526