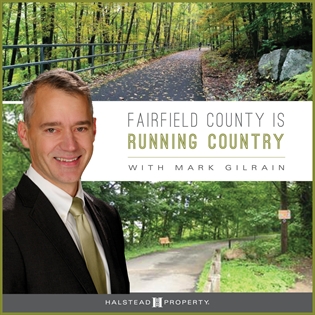 With Mark Gilrain, Lic. R.E. Broker in our Westport Office
Fairfield County is a great place to run and a great place for runners.
One county away from New Haven where Frank Shorter's early running feats helped fire the starting gun on America's great running culture, Fairfield County towns for a long time have had so much to offer the runner.
The fundamental building block of any runner's interest is the ordinary run. Whether running it on a quest to enter a race one day and win first place or simply loving the good it does for body and spirit, people want a great course. In Fairfield County, there are countless courses of unending variety - natural beauty, sweeping water views, or interesting neighborhoods. With hundreds of miles of country roads, many runners lose themselves in the rolling wooded back country - treated to changing panoramas of fields, woods, reservoirs or valleys. Shorefront runners enjoy the board walks, shore drives, or sandy expanses of gull-soundtracked, breeze-cooled routes. City runners relish the parks with their trails, exercise stations, and regulars to say hi to. While the most fun is often to find ones own way, if someone is looking for a route blazed by a fellow runner, there are thousands to chose from at mapmyrun.com covering Greenwich, Stamford, Darien, New Canaan, Wilton, Norwalk, Westport, Weston, Easton, Fairfield, and more.
The next interest of many a runner is their fellow runner. With thousands of the sports adherents across the cities and towns of Fairfield County, runners always feel part of a community. Some runners are satisfied with the everyday wave they give to the others sharing a track, park trail, or popular route. Others take it a step farther by fitting in a Meetup run on occasion and there are a number listed on meetup to chose from (www.meetup.com, search for "Stamford Road Runners Club", "Fairfield Trail Runners", "Aspetuck Trail Running Meetup", "Fit 4 Mom", and others). Still others pursue participation in some of the groups working to offer more regular fraternity, some of which are:
http://pequotrunners.wordpress.com (southport), www.teammossman.com (westport), www.thejoggersclub.com (westport), www.wolfpitrunningclub.org (ridgefield), www.greenwichtrackclub.com (greenwich), www.lightfootrunners.com (norwalk),
www.facebook.com/groups/nikewestport (westport), www.facebook.com/groups/norwalk.ct.mrtt (norwalk - "mom's run this town").
Of course there are those runners who love racing or love to use preparing for a race as a way to stay motivated to get out every day. In Fairfield County the races range from one milers to half-marathons and everything in between. Many are fundraisers, some are part of summer racing series, some are held to promote a beautiful area. None are particularly crowded and all welcome the most casual runner/walker to the serious competitor. It might be a puzzle to discover all the racing options, but a pretty thorough list of 195 races is available on Running in the USAs online directory.
Lastly, every good running community has its great places to go for gear and knowledgeable help. There's that in Fairfield County too with a great sport store or dedicated running store in almost every town. Some ones of note include: Ridgefield Running Company (ridgefield), Runners Roost (Darien), Greenwich Running Company (Greenwich), Nike of Westport, AES Sports (Westport), Olympia Sports (Westport), and Fleet Feet Sports (Stamford).
So with all that's happening in Fairfield County for runners, why not hop the train, jump in your car, or grab a ride with a friend, so that you can Strap on your Shoes and join us for a RUN!